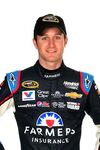 Kasey Kahne drives the #9 Dodge car in the Nextel cup car that has 3 paint schemes, his regular car, his shootout car, and his reverse pit cap car. He drives for Evernham Racing is the cup series as a teammate to Jeremy Mayfield. In the NNS, he drives the #79 Trust Joist car with 1 scheme as a teammate to Jeremy Mayfield and Erin Crocker. In some occasions, Kahne's #79 car and Jeremy Mayfield's #79 car can an be in the same race in NASCAR 06's 2- player mode. In fight to the top, Kahne more often appears in races then Jeremy Mayfield, as both drive the #79 car in NNS often. In that year he had 1 win, He now drives the #5 for Hendrick Motorsports in Cup and occasionally drives for JR Motorsports in the Xfinity Series.
Ad blocker interference detected!
Wikia is a free-to-use site that makes money from advertising. We have a modified experience for viewers using ad blockers

Wikia is not accessible if you've made further modifications. Remove the custom ad blocker rule(s) and the page will load as expected.